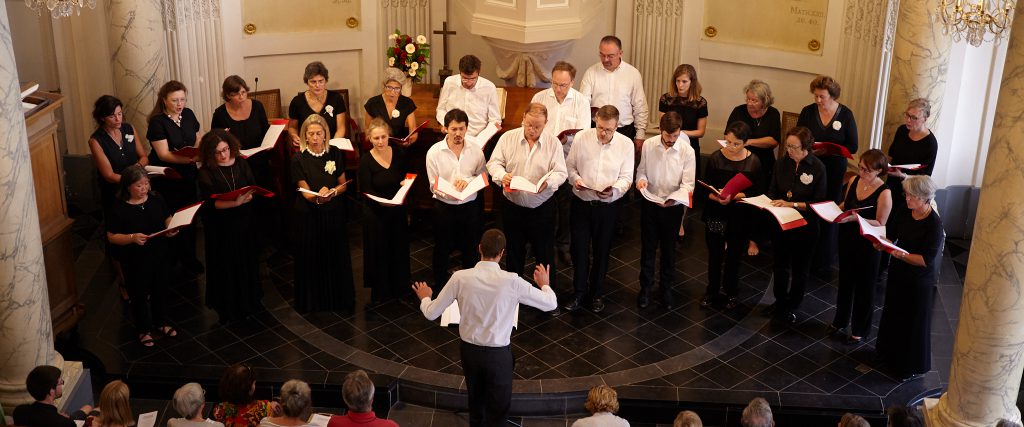 In 1942, during the darkest days of the war, the minister Robert du Pasquier had the idea of gathering together a small choir at the protestant parish of rue Belliard in Brussels. He entrusted the task of conducting to his young colleague Fritz Hoyois, who had acquired a solid musical training. He had studied orchestral conducting under Fritz Münch and obtained his diploma at the Strasbourg Music Academy.
In 1944, the choir gave its first concert with orchestra and in May 1945, its first gala performance at the Brussels Palais des Beaux-Arts, under the patronage of Queen Elizabeth of Belgium and of Prince Bernhard of the Netherlands. The choir "Chorale Protestante de Bruxelles" was born.
With this newly gained strength and stability, the choir was ready to tackle the great works of music. Its wide repertoire speaks for itself.
Besides its Belgian tours, the Chorale Protestante and its conductor have had their reputation established through many invitations to perform abroad.
Fritz Hoyois remained the choir's conductor for over forty years. He constantly strove to improve and intensify its artistic and spiritual qualities.
From 1985 to 2017, Daniel Burdet who was first a coach and later assistant conductor to Fritz Hoyois, took over the musical direction of the choir.
The choir celebrated its fiftieth anniversary in 1992. On this occasion it received the title of "Chorale Royale".
In Belgium the choir continues to give many concerts, notably as a guest in the "Festival des Flandres" and the "Festival de l'Été Mosan". It has also given performances abroad, e.g. in recent years in Aix-en-Provence, Budapest, Paris, Erlangen (Germany) and London.
In 2017, Laurent Fobelets became the third musical director.